Лего минифигурки серия 8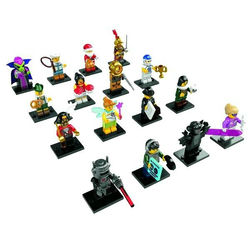 В продаже начинает появляться долгожданная 8-ая серия минифигурок Лего! В серии - 16 минифигурок.

Как обычно - очень характерные персонажи, каждый со своими аксессуарами. У каждой фигурки имеется подставка (но они стоят и без подставок).
В России они есть в продаже : сразу полная коллекция из 16-ти фигурок, и по отдельности.
Также есть в продаже 7-ая серия.

В этой серии выпущены фигурки: актёр (играет Гамлета), пиратский капитан, конкистадор, злой робот (космический боевой робот), пришелец-злодейка, водолаз (дайвер), летучая мышь, фея, футболист, бизнесмен, горнолыжник, девушка группы поддержки (красная), Санта Клаус (Дед Мороз), парень в кожаных штанах, ди-джей, и девушка-ковбой.
Названия на русский язык переводят по-разному, возможны варианты. :-)

With 16 all-new, special minifigures in Series 8, the LEGO® Minifigure Collection continues to grow. Each minifigure comes in a sealed "mystery" bag with its own special accessories, display plate and collector' s leaflet. Inspired by movies, sports, history and just everyday life, this collection includes: Actor, Pirate Captain, Conquistador, Evil Robot, Alien Villainess, Diver, Vampire Bat, Fairy, Football Player, Businessman, Downhill Skier, Red Chee rleader, Santa, Lederhosen Guy, DJ and Cowgirl.
Лего минифигурки (человечки), 8-ая серия