Русская серия Барби
Коллекционерам Барби (и не только им) будет очень интересна "русская" серия кукол Барби, здесь есть Кен в виде Николая, Барби как Екатерина, Верушка, Дарья, Мила.

Фото и описания ниже. 
Такие куклы продаются в США, можно посмотреть на сайте коллекционеров Барби - www.barbiecollector.com/.
Verushka™ Barbie® Doll - Барби Верушка

Exotic, Alluring, And Of The Moment!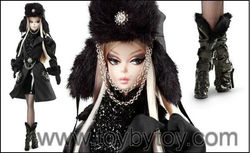 As the Trans-Siberian train rolls to a stop in St. Petersburg amidst steam, smoke, and a crowd of onlookers huddling together for warmth in the chilly air, one woman disembarks, setting a stiletto-heeled black boot onto the train platform. Heads turn while conversations hush. As her second heel hits the platform, all eyes fixate on this elegant beauty.
From head to toe, she's draped in luxurious fabrics and textures. Perfectly straight platinum blonde hair peeks out from underneath her faux fur-lined Ushanka. A sparkle knit top and shiny black vinyl mini skirt make bold fashion statements underneath her "fur" trimmed coat with silvery accents. Black stockings and stylish buckle boots complete the look.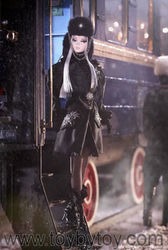 So who is this mystery woman? She's Verushka™ Barbie® doll. Embodying the beauty and style of a Russian supermodel, she walks the train platform like she would a fashion runway. Poised and purposeful with every stride.
Is she here for a fashion show? A day of shopping? To meet a friend? Only time will tell.
As she walks into the distance, fading from view, eyes stay focused on her disappearing figure, still whispering about her beauty, her inimitable style, and where she might be headed.
Designer Robert Best describes this elegant beauty as "exotic, alluring, and of the moment." What three words would you use to describe her? Post your comments here.
Стоит она (апрель 2011) 115 долларов.
Nicolai Ken® Doll - Кен Николай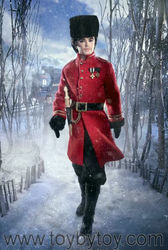 Стоит 75 долларов.
Never say "Nyet" to the romance of Imperial St. Petersburg! Baroque palaces, majestic moonlit nights, balalaika music. Just add a dashing man in uniform for a divine Russian reverie! Military chic inspires masculine fashion with a unique, Eastern European twist in Nicolai Ken® doll.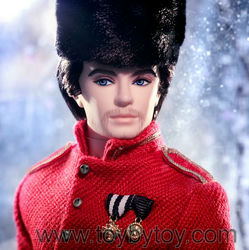 Handsome, worldly, and the ideal accessory for Barbie® doll's night on the town in St. Petersburg.
Не говорите "нет" имперской романтике Санкт-Петербурга! Дворцы барокко, музыка балалайки, чарующие лунные ночи... Добавьте в коллекцию мужественного человека в униформе, в котором слились Европа и Восток, шикарного и уникального.

Ekaterina™ Barbie® Doll - Барби Екатерина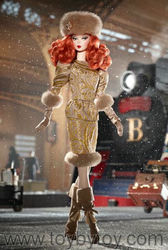 Стоит 100 долларов.

Experience a fashionable feeling of Glasnost as style becomes sensational. Ekaterina™ Barbie® looks beguiling in rich brocades and faux fur, perfect for Moscow, St. Petersburg, or any chic Russian city.

Екатерина ™ Барби ® выглядит шикарно в богатой парче и в искусственных мехах, идеально подходит для Москвы, Санкт-Петербург, или любого другого шикарного русского города.
There is a limit of 1 doll per BFC™ membership while supplies last.
Darya™ Barbie® Doll - Барби Дарья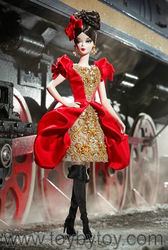 Стоит 150 долларов.
Elegant, decadent, and oh so alluring, Darya™ Barbie® doll knows how to turn heads. Wearing a dress of golden embroidery and brilliant red fit for a czarina, this fashion icon epitomizes regal luxury and classic chic. Dramatic eyes with a hint of sparkle, dazzling "jewels," and the perfect pout in deep red make this Russian beauty absolutely unforgettable.
Fashion designed especially for the Silkstone® Barbie® doll body. Not for use with other Barbie® dolls.
Mila™ Barbie® Doll - Барби Мила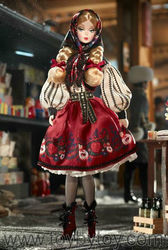 Стоит 85 долларов.

From a gilded Imperial past to the chic modern present, fashion never takes a holiday in Russia. A revolution of brilliant reds and whimsical matryoshka dolls makes for scintillating style. Inspired by traditional, folkloric design, Mila™ Barbie® doll looks beguiling beneath her babushka.
Fashion designed especially for the Silkstone® Barbie® doll body. Not for use with other Barbie® dolls.
For the adult collector.