admin
Ashton Drake Bello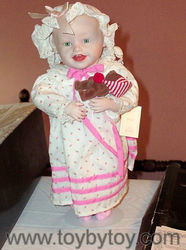 Сара, 1987 год, большая кукла, около 14 дюймов ростом. 2 зуба, зелёные глазки, с мишкой Тедди (который ростом около 3 дюймов).
Sarah by Ashton Drake's Yolanda Bello, strictly limited through the year of issue 1987. Sarah is approximately 14 inches tall, comes with original doll stand, Certificate of Authenticity, #8517A, comes with original 3 inch brown teddy bear that wears a red/white striped stocking hat, original outfi, has on nightgown and bloomers that are white with pink roses, trimmed in white lace, has matching night cap, has original bunny rabbit slippers, green eyes, big open smile with 2 top teeth showing.Статья о продаже этих пупсов - здесь: продам Ashton Drake Bello, у меня - один из них, фарфоровый пупс в голубом костюмчике, там же можно посмотреть, как выглядит тельце пупса под одеждой..
Здесь публикую дополнительные фотографии этой замечательной коллекции фарфоровых малышей от Эштон Дрэйк - Ashton Drake. Малышей в серии несколько, в разных позах и в разной одежде, есть и темнокожая фарфоровая кукла малышка, но все они - с весёлыми забавными личиками.

На фото у некоторых ручки и ножки упакованы в плёнку, но личики видно.

Ashton Drake Original Collectible Dolls
Ashton Drake's Yolanda Bello. Picture Perfect Babies doll collection, first series of porcelain dolls ever to bear the name of the Edwin M Knowles China Company.

Некоторые пупсы - спящие, с закрытыми глазками, есть даже зевающий малыш, они разного размера.
В Америке у коллекционеров таких пупсов можно купить за 40-50 долларов. Можно смотреть здесь.